MilPolice Equipment the manufacturers of Weapon-Clear range launch their latest innovation Air-Clear primarily designed for sky marshals and close protection officers giving them a ultra compact, convenient and safe method of loading and unloading their firearms.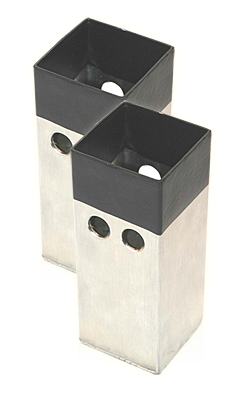 The unit is designed to be replaced or returned to ourselves after a discharge as due to its compact dimensions it has been designed to safely capture a single shot the exact specification can be provided to upon request from qualified officers.
Dimensions:
Weight: 450 g (1 lb)

Height: 40 mm (1.6 in)

Width: 40 mm (1.6 in)

Depth: 125 mm (4.92 in)

The unit is finished in stainless steel providing a durable and long lasting finish.
A larger 60 * 80 mm model which will accommodate a handgun with torch fitted will soon be available – please email for details.
Please note due to the compact size of the unit we recommend each officer is given training in its use prior to issue.

Important – the unit should be placed on a hard surface – preferably a solid floor prior to commencing loading or unloading procedures.
We expect to have units available 1st June 2007 – pre orders accepted.