Concealed Carry
After our visit to the 2011 Shot Show and speaking with a lot of concealed carry civilians, we realised from your stories and indeed concerns for safety that we could help.
Having a CCW permit without question helps you protect yourself and those you love, however there are dangers with concealed carry as indeed with the handling of all firearms, as all of you reading this are aware. A seconds loss of concentration when tired or busy can result in devastating long term consequences. Vehicle-Clear solves this problem.
To this end we are offering our Vehicle-Clear model to those who have a concealed weapon permit at a good and fair discount from our normal pricing.
Vehicle-Clear is used by Police, Sheriff & Military across the USA and indeed Europe and beyond, the unit is safe for all handguns and indeed rifles up to .308 calibre.The Vehicle-Clear has been tested by H.P.White's to contain 50 rounds of ammunition. So your safety is assured.
If you are a serving or retired Police Officer or member of our Military and have a concealed weapon permit - Please mention this in your email as we have a special program for you. Our way of saying thank you.
If you would like details of this offer please indeed email  This e-mail address is being protected from spambots. You need JavaScript enabled to view it  - we will respond with a quote for you, don't worry we hate spam too.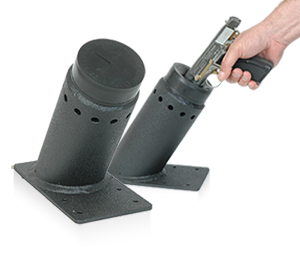 Dimensions:
Weight: 4.9 kg (12 lbs)
Height: 210 mm (8.3 in)

Width: 110 mm (4.33 in)

Depth: 200 mm (7.9 in)